PUBLIC HEALTH /COMMUNITY DENTISTRY
Caries Activity test -Snyder's Test

Caries Activity refers to the increment of active lesions (new and recurrent lesions) over a stated period of time.

It is the measure of the speed of progression of a carious lesion.
Caries Activity Tests measure the degrees to which the local environment challenge favors the probability of carious lesions.

IDEAL REQUISITES
\Maximum correlation between predicted and actual caries development.
\Reliability and validity
\Simplicity with regard to technical procedures and skills required.
\Rapidly – Results obtained , within hours or few days.
\Measurement of mechanisms involved in caries process.
\Inexpensive, non – invasive, easy to evaluate and applicable to any clinical setting.
Caries Activity Tests examples
1)Saliva flow test
2)Lactobacillus colony count test
3)Colorimetric snyder test
4)Swab test
5)Albans test
6)Streptococcus mutans level in saliva
7)Salivary reductase test
The Snyder Test is used to determine a person's susceptibility to dental caries (cavities). The susceptibility is correlated with acid production that is assumed to result from fermentation by cariogenic Lactobacillus species on the teeth or in other areas of the mouth.
The Snyder Test agar contains 2% glucose and the pH indicator bromcresol green. The pH of the agar is ~ 4.8, which inhibits the growth of most organisms, but it is ideal for acidophiles such as Lactobacillus species. Saliva samples are inoculated into the tubes and allowed to incubate. If Lactobacillus is present in the saliva, it will ferment the glucose and produce lactic acid, causing the pH to drop to ~ 4.4. This causes the bromcresol green to change from green to yellow. A culture demonstrating a yellow color indicates a person is susceptible to the formation of dental caries.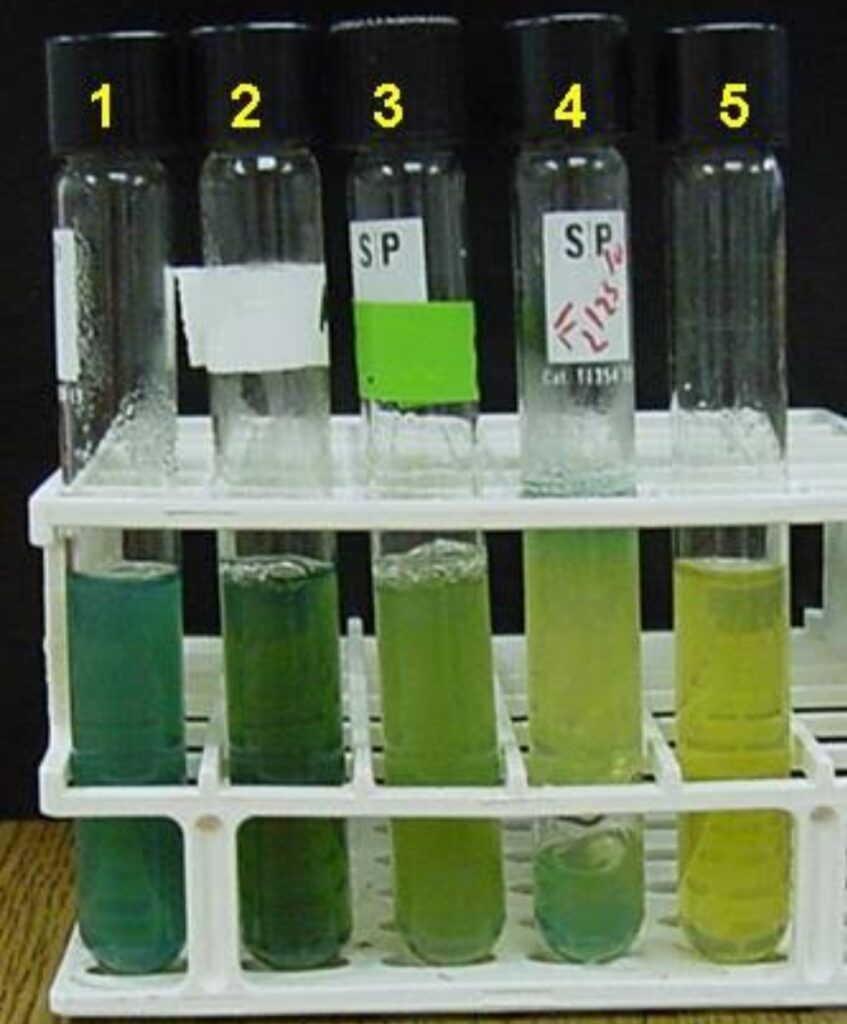 Tube 1:  Uninoculated Synder tube
Tube 2:  No color change indicates little or no susceptibility to forming dental caries
Tube 3:  Sight color change indicates mild susceptibility to forming dental caries
Tube 4:  Significant color change indicates moderate susceptibility to forming dental caries
Tube 5:  Complete color change indicates high susceptibility to forming dental caries
ADVANTAGE
>Relative simple to carry out
>Tests are of value in assessing the oral environmental cariogenic challenge
>Only one tube if medium and no serial dilutions are required

DISADVANTAGE
Time consumed is more
Sometimes the colour changes are not so clear .
REFERENCE
Peter S, Text book of preventive dentistry. 2nd edition